Restoring Health to Patients at
Grimsby Health & Wellness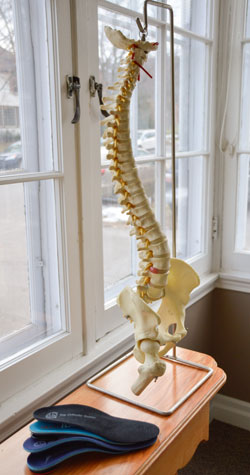 At Grimsby Health & Wellness, we aim to help patients get out of pain and into health with specific, tailored and natural chiropractic care. We hope that you will feel at home from the minute you walk in our door!
Whether you are seeking care for yourself or a family member, you have come to the right place. Our team has years of experience helping patients overcome many diverse types of injuries, ranging from minor sports accidents to severe disc problems and orthopedic issues.
Whatever you may be seeking help with, we will always do our best to develop a custom care plan that will address your concerns as effectively and affordably as possible. If you live in the Grimsby area and are seeking a reliable physiotherapist, counsellor or massage therapist—our team is ready to help!
A Collective Approach to Care
At Grimsby Health & Wellness, we are proud to offer our patients a variety of different treatment approaches. In addition to chiropractic care with our three chiropractors, our team consists of one of the top physiotherapists in Grimsby, four registered massage therapists, an osteopathic manual practitioner, a traditional Chinese medicine practitioner, three licenced counsellors and a certified medical compression and orthopedic bracing fitter. In fact, we are proud to serve as one of the only clinics to practice traditional Chinese medicine in Grimsby.
We collaborate to provide a complete range of health services to assist our patients in their recovery. Our practitioners are recognized experts in their respective fields and follow the highest standards of care within their professions.
We communicate with our patients' family physicians or specialists and arrange X-rays, ultrasounds, MRI tests and/or referrals to appropriate specialists as required. We also have an active continuing education for patients and practitioners through regular clinic talks by a variety of health professionals in our local communities. Our emphasis is to provide quick and efficient treatment to our patients, so they can learn how to self-manage their conditions in a manner that is both therapeutically beneficial and cost-effective.
Seeking a reliable source for traditional Chinese medicine in Grimsby? Or perhaps you are looking for a quality counsellor in the Grimsby area? Whatever your needs are, our team at Grimsby Health & Wellness is here for you. Contact us to book an appointment today!
Complete Health Care
With a team of experienced staff and professionals, Grimsby Health & Wellness provides a variety of therapies including Chiropractic, Physiotherapy, Traditional Chinese Medicine, Osteopathy, Massage Therapy, Counseling, and Medical Compression Stockings and Orthopaedic Bracing. Our integrated approach is provided in a comfortable and relaxing atmosphere.
ABOUT US

Discover the Grimsby Health & Wellness Difference
Ready to help your family feel their best? Contact us today to get started. Grimsby Health & Wellness is open most evenings and offers Saturday and same-day appointments. We offer free consultations with any of our team members to discuss your particular health care issues.