Grimsby Health & Wellness | Physio in Grimsby, Lincoln and Stoney Creek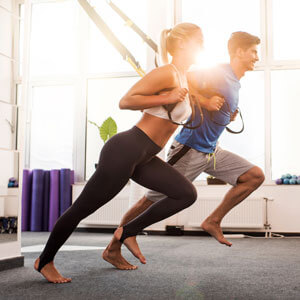 The goal of physiotherapy is to develop, maintain and/or restore maximum mobility and ease of function. At Grimsby Health & Wellness, our team seeks to achieve this for our patients who are suffering from one or more types of mobility impairment by offering gentle but effective physiotherapy treatments.
This also includes providing services to patients whose mobility and function are threatened by aging, injury, disease or environmental factors. The basic presumption of physical therapy is that functional movement is central to human health. Our team seeks to restore and maintain mobility in patients of all ages.
What is Physiotherapy?
Manual therapy is a hands-on based form of physiotherapy that involves joint mobilization and, at times, manipulation (high force). This can be a very effective means of restoring joint mobility, decreasing soft tissue restriction/scar tissue and improving nerve function.
"All physiotherapists use specifically tailored exercise to treat pain and stiffness. In addition to exercise, Manipulative Physiotherapists are highly trained at using their hands to diagnose and treat restrictions in movement in the spine, arms and legs. Using gentle, hands-on techniques, we are able to help reduce muscle tightness, improve movement in the joints, reduce pain and improve function."
Exercise prescription is a central feature of physiotherapy treatment. Here, a specific exercise program is determined based on assessment findings and testing to determine how to either lengthen or strengthen muscles. From here, we are better able to address any injury or impairment.
Exercise programs are often modified and progressed, according to changes in physical function and goals.
Core stabilization is extremely important – as well as effective – for those suffering from any type of low back disorders or conditions (including disc herniation, amongst others). This form of exercise strengthens the muscles that support the individual vertebrae. It also reduces any loading of the intervertebral discs and reduces compensation and dysfunction of "mover" muscles (ie. muscle spasm), which can happen as a result of trying to support the spinal structures.
Currently, core stabilization group programming, combined with gentle yoga, is offered locally by Meghan McKay (PT) in 8-week cycles during both the fall and winter/spring. If you are looking for highly recommended and proven physiotherapy treatment, you will benefit greatly from the program we offer. Please email or call our office for further details.
Quality Physiotherapy in Beamsville, Grimsby and Stoney Creek
We offer a variety of specialty treatments, which are aligned to the needs and the unique limitations of those receiving them. Each treatment addresses a different challenge, each to restore a sense of "home" in the body, instilling greater mobility, more comfort, and a fuller range of movement.
Geriatric Physical Therapy accommodates some of the age-related limitations patients might have, such as delicate skin, in order to improve conditions such as Alzheimer's Disease, incontinence, decreased mobility and arthritis, as well as other conditions.
Sports Physical Therapy can equip the body with the strength and flexibility needed to be more resilient and capable of resisting injury. Sports physical therapy can also promote faster healing after an injury. It forms part of many elite athletes' ongoing self-maintenance protocols.
Orthopedic Physiotherapy addresses the musculoskeletal disorders that hamper your range of motion and flexibility. Examples of musculoskeletal conditions include back and neck pain, strains and chronic stiffness. Orthopedic physiotherapy relieves the symptoms by correctly identifying the causes, providing ongoing treatment and suggesting preventative care.
Pediatric physiotherapy is specially formulated to provide healing care to the youngest members of society – from infants through to teenagers. Pediatric physiotherapy can address conditions like Spina Bifida, developmental delays, birth defects and muscular conditions.
Physiotherapy can assist with a range of other conditions as well. Mothers suffering with weakened pelvic floor muscles and prolapse after birth often find great success in physiotherapy. Additionally, children with behavioral disorders and concentration difficulties also benefit from our pediatric physiotherapy.
Physiotherapy is a crucial element in proper healing after injury. Physio will ensure the muscles heal correctly and that they regain their former strength and flexibility as much as possible, giving the patient the best possible outcome. We understand how challenging this can be, which is why we address every challenge with a supportive mindset and compassion for the difficulty our patient faces.
Physio at Grimsby Health & Wellness: A Unique Experience
We have created a tranquil environment in order to facilitate healing and relaxation. When you arrive for your session with our team, expect a warm welcome. Our healing center offers a number of healing modalities, each contributing towards the very particular atmosphere we wish to create for our visitors.
Aside from enjoying the benefits of world-class physiotherapy treatment, you can also see our psychotherapist, our chiropractor, Chinese medicine healer, massage therapist, herbalist, or osteopathist.
Aside from creating a welcome and relaxing atmosphere, our wellness center also wishes to give our patients more convenience. We serve the Beamsville area with a full range of services, as a one-stop turnkey facility. Our practitioners can work together to provide our patients with a holistic treatment protocol, addressing a challenge from a number of different angles for a faster result.
Learn More Today
If you are seeking a top physiotherapy clinic near you, we are ready to help meet your needs. We are also one of the leading providers of physiotherapy in Beamsville, Stoney Creek, Lincoln and nearby.
We are proud members of our community and we treasure the connections we build with our patients. Each person we treat has a story and we want to be part of that story. Our role is to give you the best possible outcome for your body so that you can enjoy the fullest mobility and range of movement possible.
Discover how our team can help you get the most out of life.
Contact us today to book your first appointment and get started!
---
Grimsby Health & Wellness | (905) 945-4481
Serving Grimsby, Lincoln, and Stoney Creek ON