Motion is Lotion!  Reasons to Stay Active this Fall.
As the weather gets cooler, many of us fall out of our regular physical activity routines. Here are a few reasons why it's important to stay active this fall: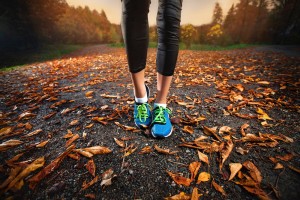 1. Exercise boosts your energy and mood
It stimulates different brain chemical to leave you happier and more relaxed
It has a positive effect in long-term management of depression, anxiety, schizophrenia, and chronic stress
2. Exercise helps relieve aches and pains

It has long-term effects on low back pain and osteoarthritis
It improves balance and function
3. Exercise helps improve bone health
It increases bone density and reduces the risk of falls and fractures in the elderly
4. Exercise helps manage your weight and diabetes

5. Exercise helps prevent your risk of cancer and heart disease
It helps protect you from developing cancer in the colon, breast, uterus, and prostate
It helps reduce the amount of fats and cholesterol in your body
6. Exercise helps improve your brain health
It helps reduce the risk of developing dementia
If you have any questions on how to add physical activity into your daily routine or tips on how to enjoy exercise with the weather changes, don't hesitate to ask!