Meet Hilary Falconer, Osteopathic Manual Practitioner
Hilary Falconer | Osteopathic Manual Practitioner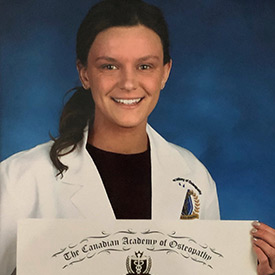 Hilary graduated with Honours in Kinesiology from Brock University while also being a member of the Figure Skating Team. During this time she developed a love for health, human anatomy, physiology, and biomechanics. Her strong passion for helping others led her to concentrate on Osteopathy at the Canadian Academy of Osteopathy (CAO). As a graduate of the CAO, she has developed the tools to help provide patients with comfortable, non-invasive treatments tailored to each individual. She is also a member of the Ontario Osteopathic Association recognized by the Canadian Insurance Company.
Her extensive knowledge and understanding of anatomy, physiology, and mechanics of the human body allows her to find the root cause of the problem rather than chasing the symptoms, providing effective treatment with lasting results. Hilary works on adjusting hard and soft tissues to remove obstructions that restrict blood flow and nerve function, to improve range of motion in joints, and to regain structural symmetry. She has a strong belief in the body's ability to self-heal and self regulate when it is in optimal alignment.
If you are seeking an experienced and certified osteopath in THE Grimsby area, contact us today to book your appointment!
---